I am the retired Chief of Police of the Springfield Police Department. Having served nearly four decades in Criminal Justice, seven years in the District Court, then retiring in my thirty second year of sworn Police service, I offer integrity and dignity to your special day. I remain active in the International Chiefs of Police Association, the Massachusetts Chiefs Of Police Association, the Massachusetts Major City Chiefs Association, and the Western Massachusetts Chiefs of Police.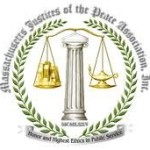 From Chief of Police to Justice of the Peace –
so technically you would be married by a Chief Justice!


Being a member of the Massachusetts Justices of the Peace Association, I am sworn to uphold our Code of Ethics.