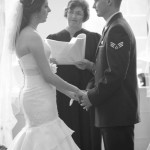 So many things to do and think about!  Here are some of the more common questions and answers I hear.
What do we need to do to get married in the Commonwealth of Massachusetts?
You need a valid marriage license and an officiant.  Premarital blood tests or any other are no longer required by the Commonwealth.    Click here to download the application.
---
Where can I obtain a license?
In any town in the Commonwealth (usually where one or both individuals reside). Requirements may vary as each city or town in Massachusetts could have their own requirements, so you are strongly encouraged to call ahead to confirm the requirements.   In Springfield, call 413-787-6094 to reach the City Clerks Office, City Hall Room 123 (first floor)
 9:00 a.m.- 4:00 p.m., Monday – Friday Thursdays until 6:00 p.m.  Click here for a  listing of Massachusetts city and town clerks.
---
What is the general procedure?
Proper identification is necessary in Massachusetts. You may be required to show a certified birth certificate.  You must be 18 years of age.  The license itself is issued three (3) days after the parties file their Intentions to be married by appearing in person together at the Clerk's Office.   The fee of $40.00 is due at the time of filing Intentions.
---
For how long is the license valid?
The marriage may take place anywhere in Massachusetts during the sixty (60) days following the date of filing Intentions and after satisfying the three (3) day waiting period.
---
Are the rules the same for same sex marriages?
Effective May 17, 2004, legislation was passed allowing same-sex couples to wed in Massachusetts.
---
What about previous marriages?
No special requirements.  However, while some Massachusetts counties state no restriction, others state that you must wait 90 days after your divorce is final before remarrying.  If in doubt, call the city or town where your divorce was granted.
---
Do we need witnesses?
No. Only the two of you and me are required.
---
Do we need a rehearsal?
Only if you want to have one.
---
Can we write our own vows?
Yes. Writing your own vows can be an exciting and good way to make a ceremony even more personal.
---
Do you need rings for the ceremony?
No. Rings are traditional, but they are not required for the ceremony.
---
What are your fees?
Fees vary based on location and service.  We will discuss these in advance of booking the wedding ceremony.
---
What will I have as documentation of the marriage?
Following the ceremony and marriage, I will provide you proof of marriage. The license may not be copied.  I will file the original marriage license in the place where it was issued by the tenth (10th) day of the next month and then it is possible for you to obtain certified copies of your license.
---